How the college review platform impacts students' decision-making
Each semester, Cabrillo students hover over their computers, adding their future classes to their schedule like an online shopping cart waiting to be checked out. But did they look at the reviews?
According to a 2016 Pew Research Center finding, roughly 82 percent of Americans say they check online ratings and reviews before buying something for the first time—and for college students, choosing their next professor is no different.
"It's nice to know what you're getting into before the semester starts so that you can find a teacher that matches your style of learning," said Myranda Barker, a psychology major at Cabrillo. "I try not to look at the overall score of a teacher and instead analyze the comments."
The website Rate My Professor (RMP) gives students a platform to write anonymous reviews of their instructors, rating their overall quality, level of difficulty, and grading style. According to their website, more than four million college students use the site each month, with users submitting more than 19 million ratings for 1.7 million professors across 7,500 schools in the U.S. and Canada.
Cabrillo has ratings for 786 past and present instructors in 93 departments.
In an online survey of 20 Cabrillo students conducted by the Voice, 90 percent of respondents said that a rating on the website has swayed their decision in registering for a class, and 75 percent said that they use the website before each semester.
Despite this strong influence in decision-making, only 40 percent believe the reviews are mostly reliable, while 60 percent believe they're about half and half. None of the students surveyed said the website is completely unreliable.
Though the website does employ moderators that screen the reviews for hate speech, there is no system in place to ensure truthfulness or accuracy, just as with other online reviews.
In a separate online survey of 12 Cabrillo instructors, all but one said they have checked their own RMP reviews. Of the respondents, 50 percent felt fulfilled and/or encouraged after reading their reviews, whereas 25 percent said the reviews had upset them.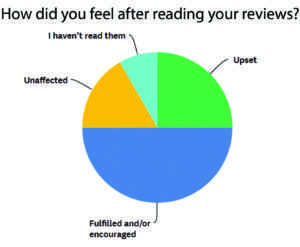 When asked if they feel that the website is misleading for students, 36 percent felt as though it is always misleading, while 64 percent said that it is only sometimes misleading. None of the instructors surveyed said that the website is not misleading.
"It's not a good measure of the average experience of students in a class or with an instructor," said Nick Rowell, a political science teacher at Cabrillo with the top rating for the school.
The more reviews an instructor has, the more reliable their overall rating. However, students and instructors said the website predominantly features extreme testimonies rather than moderate ones. In other words, students are more likely to write a review if they had either an exceptional experience or a horrible experience.
Of 299 collective reviews for five Cabrillo instructors on RMP, 59 percent were awesome/good, 29 percent were awful/poor, and only 12 percent were average ratings.
Ultimately, students would be wise to consider that the reviews can be easily skewed. One teacher with a 4.5 rating might seem like the better option over another instructor with a 4.0 rating only because their page has one review.
"Obviously a small number of reviews means the overall rating doesn't mean much," said Samuel Bass, an anthropology and communications major at Cabrillo. "Reading the written reviews gives a sense of whether people are thinking clearly or whether they're just angry about too much work or a bad grade."
If a teacher only has one negative review, prospective students using the website are more likely to dismiss that course in favor of a higher rated teacher's. Moreover, a single review is less likely to reflect accurately onto an instructor.
"It's not statistically significant enough of a sample to make an inference," said Rachel Goodman, an adjunct journalism instructor who's been at Cabrillo for 23 years.
While instructors and students recognize that the reviews are highly subjective and often misleading, Cabrillo students are still likely to be influenced by these testimonials from their peers.
Indeed, Cabrillo instructors are influenced by student reviews as well.
Joseph Krause, a math teacher at Cabrillo for 27 years, explained that he once received a review where a student complained that the problems he put on his tests were much harder than the problems he did in class. After considering the review, he adjusted the problems he presented in class to better reflect those posed on exams.
While the the website is widely used by both students and instructors, RMP is not the only option for students — it's just the most convenient one. Students who are looking to get more information about a potential course have several options:
Use the Cabrillo website to search for an instructor and contact them directly
Sit in for a class if there are still seats available
Ask friends or classmates if they have any knowledge or experience of a particular class or instructor
Rate My Professor, like all websites, is not without flaws. But it should not be entirely discredited either, and instead should encourage critical thinking skills.
For instructors, the website necessitates an impervious approach while still being receptive to the experiences of students. This will involve identifying constructive reviews to make dispassionate decisions about them—like changing problems to better reflect tests.
For students, this will involve sussing out the overtly opinionated or uninformed reviews from the genuinely constructive ones. Take the time to analyze the content of the comments. Take into consideration the fact that instructors change their curriculum and teaching styles over time.
Take everything with a grain of salt.