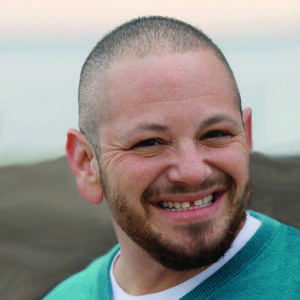 Adam Spickler became the first transgender man to hold an elected position in California, and Dan Rothwell is the first former professor to run for and be elected to the Board.
Spickler, 48, is a senior analyst at the Santa Cruz County Human Services Department with 12 years of experience in local government. He ran uncontested and was appointed in lieu of election to represent parts of Santa Cruz, Live Oak and Happy Valley. He said that his focus is equity, "making sure marginalized and disadvantaged students have access to all the support services they need."
Dan Rothwell, 72, taught speech and debate at Cabrillo for 30 years and built the Communication Studies department up from two instructors to 13. He won the only seat on the ballot this year to represent Aptos, Corralitos and Freedom.
"I know this college intimately," he said. "I know the politics, I know the needs, I know what people feel they can say and what they feel they can't say. I will give voice to the voiceless and power to the powerless."
Donna Ziel, 75, ran uncontested for her third term on the Board. She is a former San Jose State University liaison for Cabrillo transfer students.
The Board is the most important governing body at Cabrillo, with final say over the office of the President, budgets, negotiations and policies. Each of the seven trustees represents a district of the region for a four-year term and is uncompensated, besides the occasional free lunch.
Spickler came out while working as a senior field representative for Bill Monning in the state assembly. He said Monning was very supportive, and the two drafted a letter informing coworkers and leaders in the community about Spickler's transition and how to be appropriate and understanding.
"It was his way of setting the tone for leaders in our community to say, this is something about Adam that we can celebrate, and he's got my full support," Spickler said. "It was very moving and powerful for me."
As a result he felt that he had a relatively easy transition period, although he has seen how difficult it can be for people to change their concept of gender.
"Sometimes people call me she by accident, and I know it's not intentional. People get very embarrassed about it, but I know it's in part because they look at people as falling into one role or the other on a gender binary, and it's just part of how we think and compartmentalize people."
Spickler said that seeing binary stereotypes enforced in everyday life can make it very hard to come out as someone who identifies differently, especially for young people.
"The bottom line that I want cisgender (gender identity matching the sex they were assigned at birth) folks to know is that when youth are struggling, it makes what should be a two to three year transition period even longer and more difficult," he said. "You want people to get the support they need so they can get out there, live their lives and be productive parts of our communities."
Rothwell was a member of the faculty senate for 22 years, the college planning committee for 10 years and the Cabrillo College Federation of Teachers for 10 years, serving as chief negotiator to the board in 2016.
He has a doctorate in communication theory and social influence from the University of Oregon and is the author of five books. He opposed the formation of Cabrillo's first entirely online degree because he felt that the requirement for public speech couldn't be adequately fulfilled online.
Rothwell thinks some state education policies are hurting students' ability to get a well-rounded education at a public institution.
"State requirements for course repeatability are transforming community colleges into junior colleges where the only thing that seems to really matter is that we pump out degrees and certificates, and what we're losing is lifelong learners, we're losing the community," he said.
Spickler served two terms as director of the nonprofit Santa Cruz County Diversity Center and has an associates degree in early childhood education from Cabrillo. One of his goals as a Trustee is to leverage the relationships in Sacramento that he developed while working as a representative for John Laird and Bill Monning in the State Assembly.
"I'm especially excited to get involved with the Community College League of California and see what the policy and funding priorities are and who our allies will be in helping our president, and having that conversation around the unique impacts to coastal community colleges and the student funding formula that we're facing," he said.
Spickler also wants to boost enrollment, and therefore state funding, by increasing outreach to local primary and secondary schools.
"I think a really important part of bolstering our enrollment is connecting with families throughout our county at the elementary and middle school levels, making sure people feel connected in all the ways they can prior to their kids graduating high school," he said.
Spickler moved to Santa Cruz from Boston and was encouraged to get his degree in early childhood education by the administration of the preschool he worked at.
"Cabrillo was one of the turning points in my life," he said. "I didn't have a lot of self confidence, I didn't think of myself as a learner, but when I started taking classes I was empowered to participate and be part of the conversation, and I was treated like somebody who has something to offer. It was also the first time I realized there might be a profession for me in the world."
After graduating Spickler became the director of the Temple Beth-el preschool, then worked for the State Assembly before accepting his current job as a senior analyst for the Santa Cruz County Human Services Department in 2013. In this role Spickler manages $10 million in federal funding, administering contracts with nonprofit and community partners to provide child welfare, housing support and employment services.