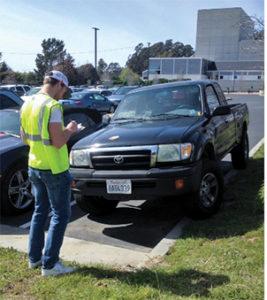 March 6, in the early afternoon a student was ticketed for parking his truck up on the curb. A student employee of the Sheriff's Office on the Aptos campus, assigned to ticketing patrol, came across this unlawfully parked vehicle and decided this needed a ticket.
No boxes on the ticket slip covered "truck parked up on curb" scenario. The student employee wasn't sure to define this crime, so decided to call it in. Fellow staff members discussed different categories and decided, "Takes up more than one parking spot" was the best fit for this crime.  The ticket was a fine for $40.
There is nothing painted or posted that specifies what the tiny parking spot is meant for. Vehicles barely fit and seldom are they able to fit between the white lines. The tiny spot depends on other vehicles compensating for it. If not, someone could get stuck unable to open their doors.
Between early dismissals and classes running late, classes not scheduled intermittently enough, throw off chances to predict when parking will free up.
Student employee of the Aptos campus Veronica Pantoja said, "Why do we pay for parking than, if there's never any parking?"
"It's scary sometimes to walk by myself at night when my car is parked really far away." Pantoja said.
Veronica is in her third year at Cabrillo, majors in accounting, and is about ready to transfer to a four-year university.  She said there has always been parking problems on both campuses. She agrees that an action plan to stagger class times more efficiently should come to action.  
Driving up and down streets, for 20 minutes or more, on the prowl to find a parking spot, happens all the time.  It usually ends up that you're parked right in front of someone's house, which is awkward because that's their usual spot.  To some, these are unfamiliar neighborhoods and either have to jay walk or succumb to tardiness.
A Cabrillo student in Watsonville displeased with hard to find parking spot that was questionable.
A new sign was put up near the Watsonville campus, on a street where students usually park. The sign says, "CRUISING PROHIBITED MAXIMUM FINE IS $500.00" making matters even worse.