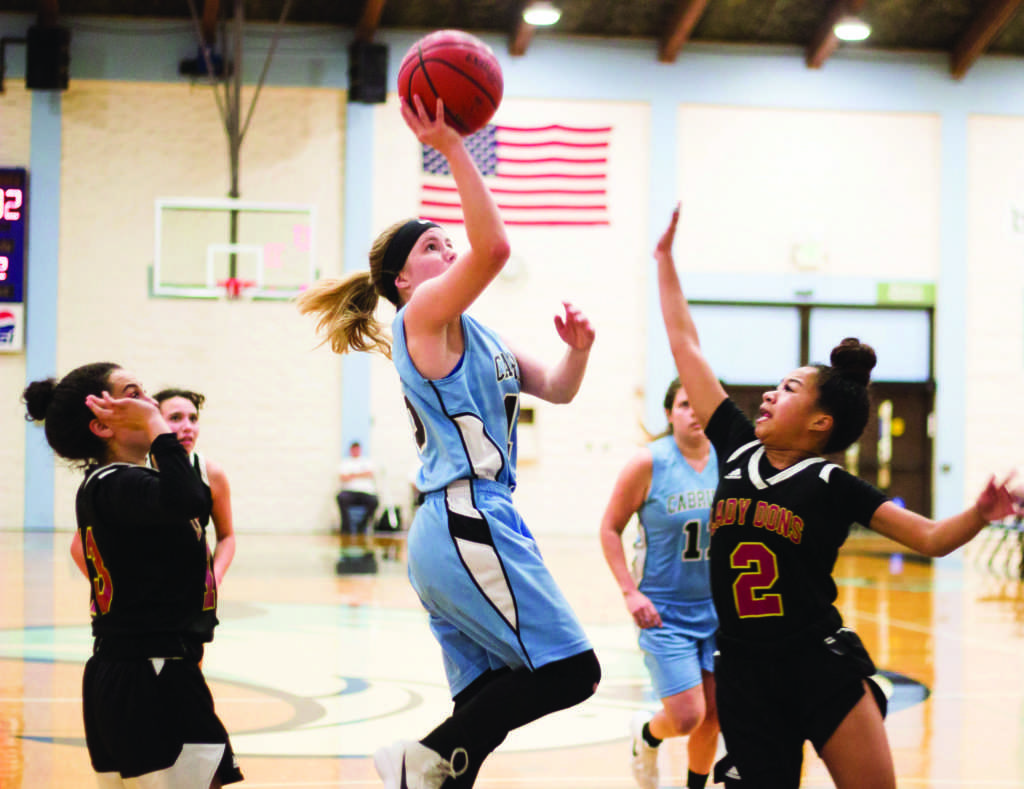 The energy was palpable at the Adobe Palace as there was one thing on everyone's minds, and that was to clinch league for the first time in three decades. The game was never in question as the Lady Hawks dismantled De Anza in a 84-46 shellacking on Valentine's Day.
Lead in part by Pauli Pappas, a Santa Cruz native, the Lady Hawks cruised to a 27-3 lead after the first quarter. Pappas lead all scoring with 25 points and 13 rebounds, while shooting an outstanding 11 of 16 from the field. Grace Giguiere chipped in with 15 points and 8 rebounds, while shooting an impressive 5 of 9 from the field.
Valerie Jimenez snatched 13 rebounds out of the sky, and Lauren Lacy finished with a double-double, dishing out a game high 12 assists. In total, the Lady Hawks nearly shot 50% from the field, going 32 of 69 (although their 14 turnovers is something coach John Wilson will have to help clean up come playoff time).
The Lady Hawks improved their record to 20-3 overall, 10-1 in conference, and finishing their home schedule a perfect 12-0. (They'll finish out their season on Friday the 16th at 7 o'clock, in an away game versus Mission (14-13) as they prepare for the playoffs.
On the men's side of things, a heated battle between Cabrillo and Gavilan for first place and league title is coming down to the wire. Although Gavilan sits with a far superior record at 22-4 (Cabrillo is 15-10), both teams are tied with an 8-3 record in conference, having played each other twice and come away with an even split.
Cabrillo came into its second to last game against De Anza on a heater, having won 7 of their last 8. All of the coaching responsibilities were left to the savvy head coach Tony Marcopulos, as assistant coach James Page was suspended for a game due to a decorum violation (for using profanity directed at an official the previous game). Marcopulos elected to go primarily with a seven man rotation for most of the game (however Santa Cruz local Jamie Saint John ended up getting some run in the second half with around 10 minutes remaining).
Although coach Marcopulos looked exasperated after De Anza scored its first bucket, evening the score at two a piece, the Hawks rolled forward and never looked back as they built a 35-18 lead at half. The Hawks were lead by the veteran 6 foot 10 inch Center Linton Acliese, who had 29 points, while going 9 of 18 from the field, 5 of 9 from deep, and a perfect 6 for 6 from the charity stripe. Curtis Bias sent the home fans into a frenzy with a couple of thunderous dunks that had the whole Cabrillo bench going crazy. Bias also made some huge plays on defense, pulling a shot out of the air with both hands, which ended up resulting in a made three by Lenorris Mincey on the other end.
Tanner Spence had a huge block in the second half that exhilarated his fan club that sat perched in the bleachers waiting on the talented kid from Scotts Valley to show the visiting crowd what he's really made of. With 3:20 remaining the Hawks doubled up De Anza in the scoring department 80-40 and finished the game off 86-44. (The Hawks play their last game at West Valley (15-12) on Friday the 16th at 7 o'clock, as they look to force a playoff tiebreak between them and Gavilan. Gavilan hosts (7-17) San Jose that same day at 5 o'clock.)